F/M Publications
Click on the cover images to go to the Amazon link
---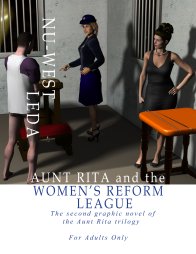 Aunt Rita and the Women's Reform League
The second graphic novel
Released: January 2015
This is a continuation of "A Visit to Aunt Rita's", in which Rita goes on to befriend the group of women supervising the local criminal justice system. Taking inspiration from Victorian classics such as "Venus in Furs" and set in the modern era, these women hold views which more than justify their activities.
---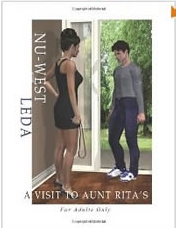 A Visit to Aunt Rita's
The first graphic novel
Released: March 2011
A rewrite of a
1980s Nu-West comic, which was done in partnership with Ed Lee of
Nu-West/Leda
Rita's domineering ways have left her unmarried, and she manages to repress a volatile set of emotions when her sexual frustration is combined with a responsibility to discipline her nephew. Getting him out of a scrape with the law however, leads her to a similar group of women - who have discovered just how powerful an outlet authority can be.
Details and ordering are via Amazon and Barnes and Noble. Quantity orders available from CCB Publishing.